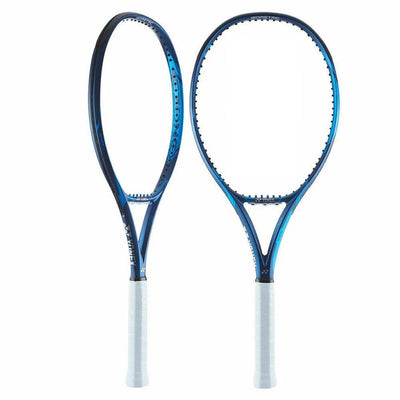 Yonex 2020 Ezone 100 300g 4 1/8 Tennis Racquet - Deep Blue
The Yonex Ezone 100 is a racket from Yonex's most recent Ezone set. This racket gives players more strength and endurance. Furthermore, the larger sweetspot increases dynamic power and ball speed. Hard hitters looking for the right balance of control and strength will love these rackets.
This racket weighs 300 grammes and needs more technique from the player in exchange for increased control and ball speed. The 320 mm handleweight balance point provides excellent ball stability and increases manoeuvrability, making the racket ideal for use at the nett. The racket has a 645 cm2 leaf area and provides a strong balance of power and control.
Yonex's improved Isometric technology allows for a larger sweet spot than before, particularly at the top of the leaf, reducing misses and increasing power. Vibration dampening is provided by the modern Vibration Vapour Mesh, which is integrated into the grip shells. Finally, the M40X material improves the frame's flex and stability.
Specifications:
Colour: blue
Gender: unisex
Material: graphite
Grip size: L1
Length: 685 mm
Racket weight: 300 grams
Balance: 320 mm
Leaf size: 645 cm²
String pattern: 16 x 19
Product line: Ezone
Supplied strung: no